This original chair (above: far left) was a favorite because it was comfortable and well-constructed. However, with the dark cherry finish and vibrant upholstery, it just didn't fit in the atmosphere of the casual, country river house. Rather than dispose of the chair, the wood finish was changed to a weathered driftwood and the chair was reupholstered in cool, soothing colors reflective of the river that the room overlooks. The finished chair is pictured are the two photos on the right.
This old dark-stained cherry buffet was repurposed into a media center. To achieve Tim's vision, he added texture and finished the top to resemble distressed, raw timber. This procedure also concealed the many imperfections resulting from years of neglect and misuse. A weathered driftwood finish was applied to the cabinet. The plastic, faux wrought iron grilles were replaced with mirrors that were hand antiqued. Legs, repurposed from an old headboard, were added for height and functionality.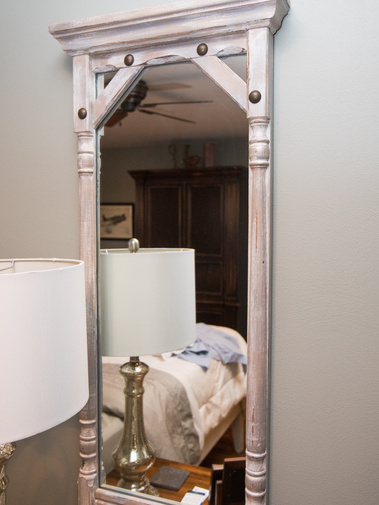 This mirror was originally a golden oak dresser mirror from the 70's. It had good structure but needed updating and a different finish to look right in the river house. Nail heads were added to give the mirrors additional interest. A weathered driftwood finish was used to give it a more casual feel.